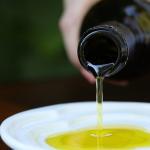 The Olive oil in the estate VÓGLI is a family business product belonging olive production is produced on the premises of the estate.
Cultivation and manufacturing processes are under the control and care of the olive oil producers whose main purpose is not only to produce the best possible quality but ensure the signature by the hands of the final consumer.
Our superior quality Vogli Estate ® extra virgin Organic PDO Olive Oil, come from the well-known olive groves Manaki and Koroneiki varieties of the Peloponnese's at Kranidi region, Greece.
The olives harvest are collected every November and pressed on the same day under controlled conditions, stored in stainless steel tanks and then packaged in modern laboratories.
Our Vision
The olive groves of the Voglis family strives to combine our forefathers understanding of the olive tree with traditional harvesting and modern production methods that respect the environment in order to provide our customers with the highest quality Greek products of uncompromised taste.
Our Mission
From the beginning of our operations, we remain to our vision of providing consumers with traditional agricultural products of genuine origin and authentic taste. The land of Greece's abundance in agricultural products of high nutritional value and quality is what motivates us to continue to introduce and provide, globally, exceptional agricultural Greek products.
•Produce and promote of high quality traditional Greek products
•Secure the safety of our products by working under high-quality control and hygiene standards
•Expand our distribution network worldwide in order to gain higher visibility of our products.
Vogli Estate ®  Κτήμα Βόγκλη Βιολογικό έξτρα παρθένο ελαιόλαδο Π.Ο.Π Κρανίδι Αργολίδας.